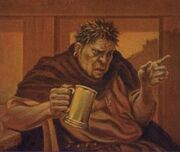 Sharkey's Company was a group of Rogues in service of Saruman who had taken over the Shire. At first the Group had started dealing in food and pipeweed with several Hobbit clans from the Southfarthing under the cover of Sharkey's Shipping, later they had bribed or seduced Lotho Sackville-Baggins to take the position of the Chief of the Shire, pressing Bounders and Shirrifs into their service.Most of the Rogues were of Dunlending heritage, some of them having been Half-orcs, but some also were eriadorian Brigands and Smugglers, hailing from the Blackwolds, the Breeland Company or other groups of Ruffians.
Members of Note
Community content is available under
CC-BY-SA
unless otherwise noted.