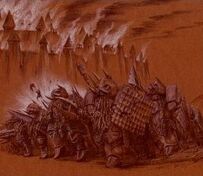 The
Mornaugrim
("Khazâd-Narag") were the descendants of Dwarvish Traitors who, after the
War of the Last Alliance
had fled to
Mordor
. They were a forgotten race never mentioned by the other Dwarves.
See:
Appearance
Their home in the dark land and closeness to the Dark Lord's influence had changed the Mornaugrim´s appearance. They had degenerated in stature, with greyish skin and glowing red eyes.
Speculations
The Mornaugrim may have been descendants of those corrupted Ironfists and Blacklocks who followed their Kings to serve Sauron.