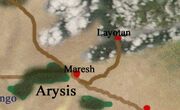 Hamat Maresh Har. 'City of Heroes', aka Maresh. The main city of Lurmsakun, on the Rysis river in the foothills of the Ered Harmal, also on the border with Arysis (realm southeast of Lurmsakun). The city was so named because so many of its leaders had been martyrs in the numerous invasions by the Variags.
references
Fanmodules:UMBAR & NEAR HARAD GAZETTEER
Community content is available under
CC-BY-SA
unless otherwise noted.