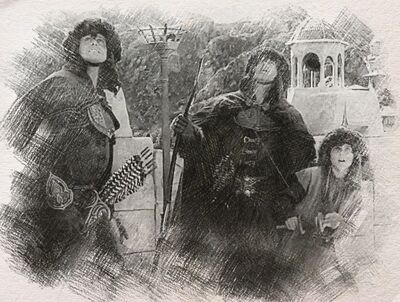 The
Dale-Folk
or
Dalemen
(Del."Dálringi") were a
Northron
-Tribe that inhabited the
Dale-Lands
surrounding the
Lonely Mountain
.They were the descendants of
Arrónai
-Wanderers and a tribe closely akin to the
Edain
of the
House of Beor
.Originally the Dale-Folk were a confederacy of a number of related clans including the Kiusanthiuda, Aldungs, Dalthiuda, Waihiungs (or later
Kyrethid
,
Aldurings
,
Dalethid
,
Félagar
and
Stanthid
).
Adaptions:
In most adaptions, either the old ICE Sourcebooks or the Hobbit movie Trilogy the Dalefolk are portrayed as a slavo-norse culture, similar to the historical Rus or Varangians.
Dale-Men of Renown
Notes:
The MERP Lake-Town Sourcebook gives the names of the Dalefolk clans as Aldurlingas,Daletheod,Feotlingas,Krytheod and Stahnotheod, modified anglo-saxon forms.
Community content is available under
CC-BY-SA
unless otherwise noted.