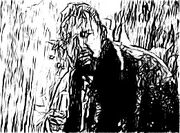 Albert Dreary
was a shady street entertainer and one of the residents of the town
Bree
during the
War of the Ring
. He could usually be found on the streets of Bree where told horrible stories of
Undead
and
Monsters
to unsuspecting passers-by. He had an unexplained love for carrots.
An identical carrot-eating tramp was seen in Bree 60 years earlier, during the time of the Quest for Erebor. His relation to Dreary - father, uncle, or otherwise - is unknown.
Real World Significance
In reality, Dreary was a cameo by director Peter Jackson in The Lord of the Rings: The Fellowship of the Ring and The Hobbit: The Desolation of Smaug.
Appearance
the Lord of the Rings Trading Card Game